Single bridge suspended crane GISKB steel
up to 1600 kg
Crane system for regular or optimised construction height
Suspension crane track rigid or pendulating
Manual or steplessly electrical crane and cross travel
Profile reinforcement to increase span width
Option: Crane system wiith multiple crane bridges
Option: telescopic jib
Technical specifications
---
Profile sizes
4 (GISKB I, II, III, IV), to be combined flexibly
---
---
Execution
Single bridge suspended crane standard or low headroom execution
---
Crane and cross travel
Manually or electrically (Electric tug frequency controlled)
---
Trolleys
Trolleys and rolling apparatuses with quiet plastic rollers
---
Suspensions
Suspension rigid direct, pendulating short or distanced
---
Power supply
Trailing cable, C-rail or external conductor line
---
Customer's benefit
GISKB suspension cranes offer the optimal solution for the area-covering and safe transport of goods. Depending on the load, span and transport route, various profile sizes are available. These can be combined with each other as crane tracks or crane bridges.
Crane and cross travel is carried out manually or electrically (stepless). Trolleys with plastic rollers ensure low-noise and smooth-running moving of loads. As lifting device serves a GIS electric chain hoist.
Due to the modular design GIS KB overhead cranes are easy to plan and install. All components are screwable. This allows subsequent retrofitting and extension of existing systems without problems. The pendulating or rigid suspension is adjusted to the existing ceiling construction. For power supply a trailing cable, a C-rail or a conductor line can be chosen.
Accessories & options
Radio remote control
Travel limit switch for electrical moving
Profiles in customer-specific colours
Zinc-plated profiles
Suspended cranes with branch terminal lines
Suspended cranes with one or two-sided telescopic jib
Crane tracks with several transverse bridges
Drop stations
Console cranes
Shelf-storage operation units
Freestanding systems
Special suspensions
Power supply via energy chain or internal conductor line
Roving pendant
News about this product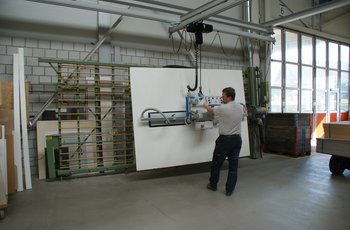 7. September 2017
GIS light crane system combines different vacuum handling systems
At Türenmeier in Biberist, wooden panels are cut to size from st ...