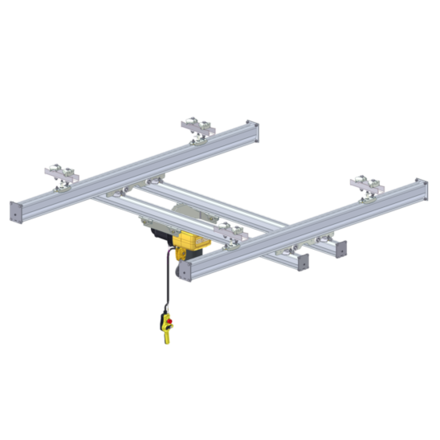 Double bridge suspended crane GISKB steel
up to 2000 kg
Crane system for larger span widths or transport distances
For regular or optimised construction height
Suspension crane track rigid or pendulating
Manual or steplessly electrical crane and cross travel
Profile reinforcement to increase span width
Option: Crane system for multiple crane bridges
Technical specifications
---
Profile sizes
4 (GISKB I, II, III, IV), to be combined flexibly
---
---
Execution
Double bridge suspended crane standard or low headroom execution
---
Crane and cross travel
Manually or electrically (Electric tug frequency controlled)
---
Trolleys
Trolleys and rolling apparatuses with quiet plastic rollers
---
Suspensions
Suspension rigid direct, pendulating short or distanced
---
Power supply
Trailing cable, C-rail or external conductor line
---
Customer's benefit
The GISKB light crane system is the perfect solution for the fast and safe overhead transport of your goods. Due to its flexible and modular design the crane system can be tailored to the needs of your workplace. Depending on the load, span and transport route, various profile sizes are available. These can be combined with each other as crane tracks or crane bridges.
The double-bridge suspened crane is used for heavy loads and for large spans. A GIS electric chain hoist, is placed on a saddle between the 2 cross beams. This saves additional headroom. If space is particularly tight, the crane bridge is raised between the crane runway.
Compared to traditional structural steel beams the GISKB crane system with hollow profiles, whether as an overhead monorail, single or double girder crane, has the major advantage that the treads of the profiles are significantly better protected from dust. In this way the plastic rollers of the trolleys maintain their quiet running properties and are durable. In a long run, manual moving of the electric chain hoist and crane bridge can be carried out effortlessly and precisely. Due to their numerous advantages such as modularity, lightweight construction, flexibility, dust protection and simple installation GISKB crane systems are used in various industries for the internal flow of goods.
Accessories & options
Radio remote control
Travel limit switch for electrical moving
Profiles in customer-specific colours
Zinc-plated profiles
Suspended cranes with one or two-sided telescopic jib
Crane tracks with several transverse bridges
Drop stations
Console cranes
Shelf-storage operation units
Freestanding systems
Special suspensions
Power supply via energy chain or internal conductor line
Roving pendant