Crane system GISKB Alu
up to 630 kg
Crane system with aluminium profiles GISKB Alu
As single or double bridge suspended crane or monorail
For regular or optimised construction height
Suspension crane track and monorail pendulating
Manual crane and cross travel
Perfect smooth running of the trolleys
Technical specifications
---
Profile sizes
4 (GISKB I, II, III, IV), to be combined flexibly
---
Colour beams
Natural-coloured anodised
---
Execution
Monorail or single/double bridge suspended crane standard or low headroom execution
---
---
Trolleys
Trolleys and rolling apparatuses with quiet plastic rollers
---
Suspensions
Suspension pendulating short or distanced
---
Power supply
Trailing cable, C-rail or external conductor line
---
Customer's benefit
With the GISKB Alu crane system, goods weighing up to 630 kg can be moved manually with ease. This is ensured by the low dead weight of the aluminium profiles together with the low rolling resistance of the trolleys used. The even load distribution on all rollers prevents jamming of the trolleys, even in case of diagonal pulling. A large working area and diverse combination possibilities ensure highest flexibility. The construction kit allows mounting the crane system to an existing steel construction, a concrete or wooden ceiling or a customised upper construction.
Simple installation
Thanks to the low weight of the aluminium profiles and the flexible connection options equipment installation is carried out quickly and easily. The modular construction-kit system allows smooth retrofitting or extension of an existing crane system at any time.
Perfect smooth running
Due to the excellent running properties of the low moving mass the working speed is increased while positioning is precise. This leads to significantly shorter cycle times, which has a positive effect on the production costs and productivity.
Functional design
The modular construction-kit system can be configured flexibly and can easily be integrated into every existing or new infrastructure. The natural-coloured anodised crane rails make the crane system appear sophisticated. Height differences can be compensated easily.
Accessories & options
Suspended cranes with one or two-sided telescopic jib
Crane tracks with several transverse bridges
Feeestanding system
Combination with GISKB Steel or IPE beams
Special suspensions
Power supply via energy chain
Roving pendant
News about this product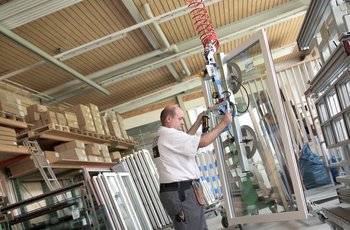 5. November 2015
Vacuum handling system transports sensitive window panes quickly, safely and effortlessly
By means of special vacuum lifters, both heavy and bulky glasses ...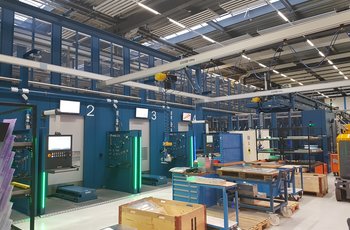 26. August 2019
In use at the Pilatus Aircraft Ltd: A crane system for the precise and easy handling of workpieces
A GIS aluminum crane with vacuum handling system was installed at ...