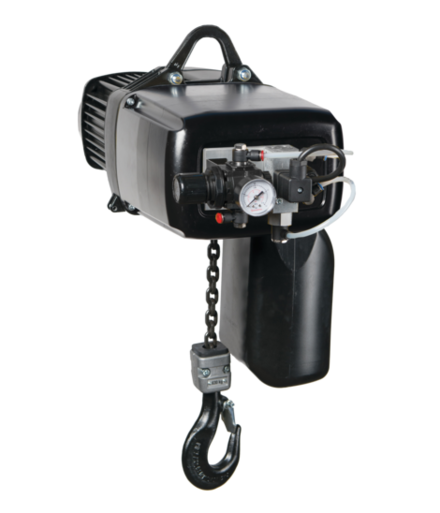 Electric chain hoist explosion proof
GP250 – 2500 ATEX, up to 6300 kg
Electric chain hoist explosion proof ATEX version
Available in a dust- and gasproof execution
For zones 22 (D) and 2 (G)
Protection class IP65
Option: motorised trolley in ATEX version
Technical specifications
Maximum load capacities (1 or 2 falls)
GP250: 400/630 kg, GP500: 800/1250 kg, GP1000: 1600/2500 kg, GP1600: 2500/4000 kg, GP2500: 3200/6300 kg
---
Standard voltages
3 × 400 V / 50 Hz, 3 × 230 V / 50 Hz
---
---
---
---
---
---
Control switch
ATEX control switch with emergency-stop and external strain relief
---
---
Limit switch
Geared limit switches for highest and lowest hook position
---
---
---
Overload protection
Slipping clutch adjustable and not in the flow of forces
---
Dust-proof version:
Equipment group II, Equipment category 3
Zone 22 (D)
Temperature = <130 °C
With temperature monitoring

Gas-proof version:
Equipment group II, Equipment category 3
Zone 2 (G), 22 (D)
Temperature class = T3
With temperature monitoring
Operation interruption in the event of a pressure drop
Customer's benefit
Explosive atmospheres can arise in many branches of industry, for example in the extraction of raw materials, in the chemical or petrochemical industry, in food production or also in energy supply.
Electrical lifting equipment used in an explosive environment must be designed so that it does not become a source of ignition.
Based on the basic GP model, we offer explosion-protected electric chain hoists for zones 22 and 2:
The dust-protected ATEX version achieves the required protection class Zone 22 through temperature monitoring (Klixon) in the motor, which prevents overheating, through design to protection class IP65 against the ingress of dust or jet water and through special cable glands.
The gas proof ATEX version (zone 22 and zone 2) additionally prevents gases, steams or fogs from entering by means of a 0.4 bar overpressure inside the casing which constantly feeds compressed air by an external air supply. In case of an air pressure drop, the operating voltage will be interrupted instantly and the lifting respectively travel process is stopped immediately.
Particularly with a highly sensitive topic such as explosion protection, the greatest caution and care is required. We therefore recommend that you seek advice from a GIS sales consultant or one of our sales partners.
Accessories & options
Worldwide operating and control voltages
Hook suspension
Safety load hook
Chain bucket for various lifting heights
Corrosion resistant version
Electric and push trolleys