Ejector device GHGE
up to 320 kg
Developed for handling glass panels and other airtight transported goods
Vacuum production with compressed air (no electrical cables necessary)
With holder for control switch/radio control
Complete solution including electric chain hoist, crane system or slewing crane
Sturdy and durable devices
Small and light device with low purchase costs
Suction surfaces, traverses and operating panels can be tailored to customer needs
Fully complies with the European Norm EN 13155 (warning system, two-handed operation, vacuum tank, non-return valve)
Technical specifications
---
Required operating pressure
---
Main traverse
Length: 1200 mm, turnable
---
Suction plates
2 or 4 suction plates (ø 180, 270 or 320 mm)
---
Control
Manometer, hand-slide valve for ejection of transport good, locking bolt for rotation lock and holder for radio control
---
---
---
Customer's benefit
Vacuum lifters of the type GHGE are used for airtight goods such as glass, metal and plastic.
These units are designed for glazing glass panels and thus are mainly sold to the glass industry.

The vacuum is generated by compressed air, whereby the equipment is much smaller and lighter.
As a result, the investment is much lower, however the operating costs are slightly higher.
News about this product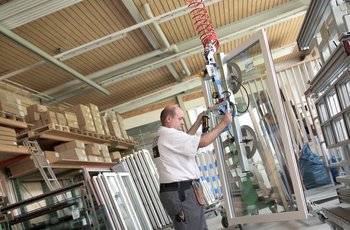 5. November 2015
Vacuum handling system transports sensitive window panes quickly, safely and effortlessly
By means of special vacuum lifters, both heavy and bulky glasses ...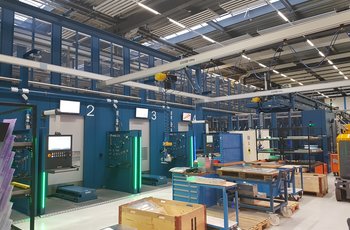 26. August 2019
In use at the Pilatus Aircraft Ltd: A crane system for the precise and easy handling of workpieces
A GIS aluminum crane with vacuum handling system was installed at ...