Electric chain hoist LP C1
LPM250, LP500 - 2500, up to 6300 kg
Reliable and long-lasting
Robust: 3 year warranty
Proven DC spring brake, with or without monitoring
Weatherproof motors: Protection class IP65 and KTL-coating for hard outdoor use
Easy to operate
Quiet running: with 3-step drive and helical gearing
Powerful built-in motor, speed up to 32m/min
Simple: Polygonal design for an easy maintenance
Customer specific
Preparation for load and path measurement​
Suitable for frequency inverted operation
Wide range of accessories and options
Technical specifications
C1 motor
In accordance with EN14492-2, SQP2:2018, DIN56950, EN17206
---
Maximum load capacities
LP500: 400 kg, LP1000: 800 kg, LP1600: 1250 kg, LP2500: 2000 kg
---
---
Standard voltages
3 × 400 V / 50 Hz, 3 × 230 V / 50 Hz
---
---
Control
Interface for control system provided by the customer
Suitable for frequency inverted operation
---
Limit switch
Geared limit switch with two additional emergency stops
---
---
Load measurement
Eyebolt or hook suspension with load sensor: output signal 0 - 10 V
---
Path measurement
Incremental encoder on chain wheel
---
Use
Usable as stationary or climbing hoist
---
---
Material
Housing and cover made of aluminum
---
Colour
Housing, chain and equipping parts black
---
Brakes
Two independent DC spring-loaded brakes
---
Load hook
With interlocking hook lug, dampening system
---
Overload protection
No slipping clutch, overload shutdown by client
---
Customer's benefit
For both path and load measurement, additional components and electrical parts can be easily integrated in the chain hoist. On the drive shaft and/or the chain wheel, the installation of incremental or absolute encoders is prepared for path measurement. Special eyebolt and hook suspensions allow easy installation of a load measuring pin for load measurement. Our partners who develop and supply the control for multiple hoists value this highly.
All LP motors are equipped with a 3-stage self-contained gear. The helical gearing with geometric optimisation and the chain wheel with minimum 5 pockets ensure extremely quiet running. This allows the quiet handling of loads during events. Thanks to the sound absorption of the transmission the sound pressure level of the LP500 is only 60 dB.
Accessories & options
Worldwide operating and control voltages
Lifting speeds up to 32 m/min at 50 Hz
Load measuring pin: Output signal 4 – 20 mA
Mechanical protection for load sensor
Preparation for path measurement with absolute encoder on chain wheel, without encoder
Preparation for path measurement with incremental or absolute encoder on rotor shaft (without encoder)
Safety load locking hook
Temperature monitoring
Brake surveillance independent for first and second brake
Additional rectifier
Chain container for various lifting heights
Handles
Customised adjustments for cable connections
Flight cases (2 x LP500, 1 x LP1000)
Push and motorised trolleys
News about this product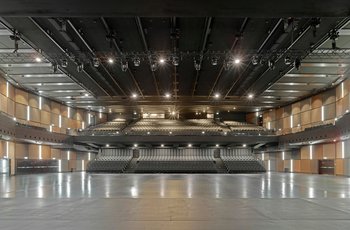 25. Oktober 2019
SAMSUNG HALL Zurich: Intelligent GIS rigging system ensures maximum flexibility and security
An innovative rigging system from GIS AG ensures maximum flexibil ...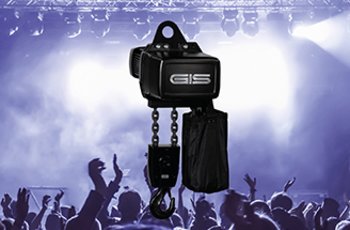 1. Juli 2020
Increasing of the lifting capacity range to 6300 kg: GIS launches LP1600 and LP2500 electric chain hoists
The Swiss manufacturer GIS is investing in the future and expandi ...