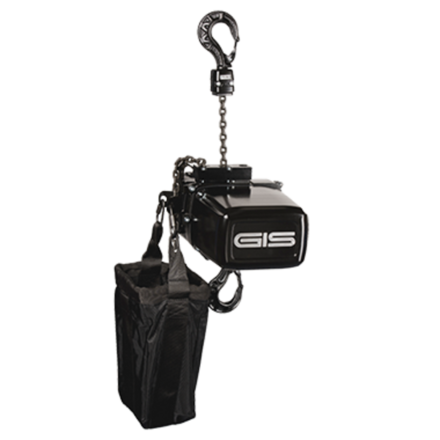 Electric chain hoist LP D8+
LPM250, LP500 - 2500, up to 3200 kg
Reliable and long-lasting
3 year warranty
Safe: Chain safety factor minimum 8-times
Weatherproof: Protection class IP65 as standard
Easy to operate
Usable as stationary or climbing hoist without modification
Quiet running: with 3-step drive and helical gearing
Simple: Polygonal design for an easy maintenance
Customer specific
Different operating and control voltages
Second brake without housing extension
Wide range of accessories and options
Technical specifications
D8 Plus motor
In accordance with EN14492-2, SQP2:2018, DIN56950, EN17206
---
Maximum load capacities
LPM250: 250 kg, LP500: 500 kg, LP1000: 1000 kg, LP1600: 1600 kg, LP2500: 2500 kg (1 fall) / 3200 kg (2 falls)
---
---
Standard voltages
3 × 400 V / 50 Hz, 3 × 230 V / 50 Hz
1 × 115 V / 50 Hz, 1 × 230 V / 50 Hz
---
---
---
---
---
Suspension
Eyebolt or hook suspension
---
Use
Usable as stationary or climbing hoist
---
---
Material
Housing and cover made of aluminum
---
Colour
Housing, chain and equipping parts black
---
Brakes
Two independent DC spring-loaded brakes
---
Load hook
With interlocking hook lug, dampening system
---
Overload protection
Slipping clutch adjustable and not in the flow of forces
---
Other properties
Suitable for frequency inverted operation
Liquid drain for outdoor use
---
Customer's benefit
Powerful
The case hardened and manganese phosphated profile steel chain provides about 15 % more capacity at an identical nominal diameter when compared to the traditional round steel chain. The larger cross-sectional area reduces wear and increases the lifetime of the chain. The load hook with stable, guided hook latch and safety rubber buffer provides maximum safety.
Weatherproof
The cathodic dip-paint coating (KTL coating) offers good protection against mechanical wear and high UV resistance. A feature of the hoist motor is the protection class IP65. It is dust proof and protected against water jets. The LP is perfectly suitable for outside use, even under the most arduous conditions. On open-air events or on concert tours, the rigging professional will appreciate the weather resistance and reliability of these electric chain motors.
Brake
The load is secured by two independent DC-spring loaded brakes. The GIS motor is designed as standard for mounting a second brake without the need for a housing extension. The second brake can be assembled on the existing shaft in just a few simple steps. This concept means that the motor is light and compact.
Compact
LPM250 and the LP500 are modular in design with compact construction which is why they are perfectly suited for integration in trusses. LPM250 fits in the 300 mm square truss and LP500 in the 400 mm square truss. Regardless of its compact size, wearing parts can be replaced in a simple manner, making it the hoist technicians' friend as well.
Accessories & options
Limit switch for direct control (LP500 and LP1000)
42 V low voltage control with geared limit switch
Worldwide operating and control voltages
Lifting speeds up to 32 m/min at 50 Hz
Safety load locking hook
Geared limit switch with two additional emergency stops
Safety radio remote control
Ergonomic control switch on cable
Preparation for encoder on chain wheel or rotor shaft
Incremental encoder for path measurement
Eyebolt or hook suspension for load sensor
Load sensor 0 - 10 V or 4 - 20 mA, mechanical protection
Temperature monitoring
Chain container for various lifting heights
Handles
Brake monitoring
Flight Cases (4 x LPM250, 2 x LP500, 1 x LP1000)
Controller: Group controls / frequency controls
Power and control cable with plug
Push trolley and motorised trolley