Motorised trolley GMF
GMF1250 - 6300, up to 6300 kg
Motorised trolley for steel beams
Side plates made of cast iron with fall and climbing protection
Load wheels made of cast iron, with ball bearings
1 or 2 travelling speeds
Flange width infinitely variable
Control box with easily accessible connections
Option: travel limit switch
Option: radio remote control
Technical specifications
Maximum load capacities
GMF1250: 1250 kg, GMF2500: 2500 kg, GMF4000: 4000 kg, GMF5000: 5000 kg, ​GMF6300: 6300 kg
---
Flange widths
GMF1250: 70 - 140 mm (option: 70 - 240 mm), GMF2500: 88 - 200 mm (option: 88 - 300 mm), GMF4000 /5000 / 6300: 91 - 300 mm (option: 91 - 200 mm)
---
Minimum curve radius (with carrier roller)
GMF1250: 1300 mm, GMF2500: 1800 mm, GMF4000 / 5000 / 6300: 2200 mm
---
Standard voltages
3 × 400 V / 50 Hz, 3 × 230 V / 50 Hz
1 × 115 V / 50 Hz, 1 × 230 V / 50 Hz
---
---
---
---
---
Material
Side plates and load wheels made of cast iron
---
Load wheels
Load wheels for flat running surfaces
---
---
Protection
Fall and climbing protection
---
Control switch
4 button ergonomic control switch with emergency stop and external strain relief
---
---
---
---
Customer's benefit
The GMF1250 - 6300 electric trolleys are designed for maximum flexibility and longevity:

The larger diameter of the load wheels, the helical gear parts and load wheels which can be matched to the beam surface ensure a longer service life and optimum running properties.

The flange width is infinitely variable by means of a new type of adjustment system and can be fixed easily by using the a locking function.

Due to their good handling characteristics and their longevity, GIS trolleys are often used by our customers as components for end carriage of underslung travelling cranes.
Accessories & options
Trolley in corrosion resistant version
Trolleys in ATEX version
Direct control, special control
Radio remote control
Festoon mounted pendant control box
Frequency inverter
Worldwide operating and control voltages
Special speeds available on request
Travel limit switch 1 or 2 stages
Carrier rollers for cornering
Convex load wheels made of cast iron
Plastic load wheels
Load wheels made of steel or stainless steel
Special support bolts for special flange widths
Gear grease for low temperature use / food industry
Temperature monitoring to prevent the motor from overheating
Protection class IP65
Counterweight modularly expandable
News about this product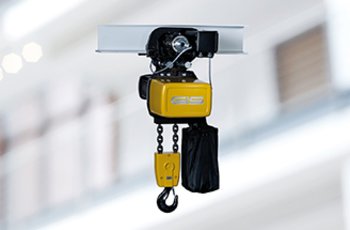 1. Juli 2020
Increasing of the lifting capacity to 6300 kg
With the two models GP1600 and GP2500, Swiss manufacturer GIS is ...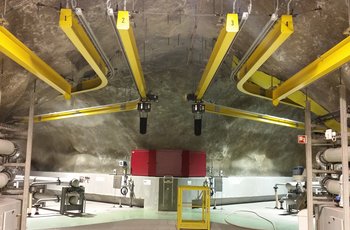 13. Mai 2016
Underground sewage treatment plant in Zermatt: GIS crane systems ensure smooth material handling
Underground sewage treatment plant in Zermatt: GIS crane systems ...