19. April 2021
GIS chain hoist with a GISKB crane as a helping "third hand"
A successful small crane concept is in use in the workshop of Vukadin Metallbau. The height-optimised GISKB crane system ensures maximum use of space and is an im-portant helper for internal logistics.
Especially for one-man operations or small companies, auxiliary equipment is elementary. Vukadin Metallbau in Emmenbrücke, for example, had its workshop equipped with a GISKB crane system. The height-optimised crane with integrated GP250 electric chain hoist offers maximum utilisation of the limited room height and is indispensable as a "third hand" and practical helper. Bulky and heavy loads can now be lifted and transported easily and comfortably. The gained flexibility can be an important factor in being successful as a small company.
Technical data / fact sheet
Special features
Double-bridge suspended crane GISKB with intermediate structure
Direct suspension from concrete ceiling, room height 3.3 m
---
---
---
---
---
---
Crane and cross travelling
---
Electric chain hoist
GP250/2NF, lifting height 3 m, 400 kg, 4/1 m/min
---
Related articles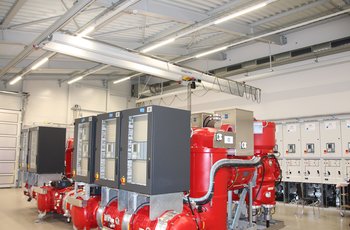 20. August 2020
Height-optimized GISKB crane system for transformer room
Centralschweizerische Kraftwerke AG (CKW) recently put the substa ...