A GIS crane with vacuum handling systems was installed at Pilatus Aircraft Ltd this spring.
The crane consists of a GISKB aluminium crane system together with 2 vacuum lifters of the type GHGE for a load capacity of 2 x 100 kg. The lifting is done by electric chain hoists equipped with a frequency converter for the exact positioning of the load.
The control of the lifting movement as well as the load guidance are carried out comfortably with only one hand.
This combination of the smooth running aluminum profiles together with the compact vacuum lifter allows a fast, safe handling of the parts coming from the storage systems.
Related articles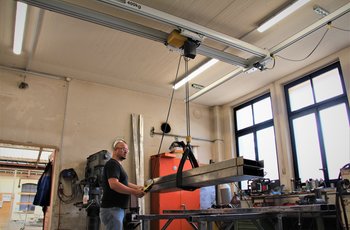 GIS chain hoist with a GISKB crane as a helping "third hand"
A successful small crane concept is in use in the workshop of Vuk ...